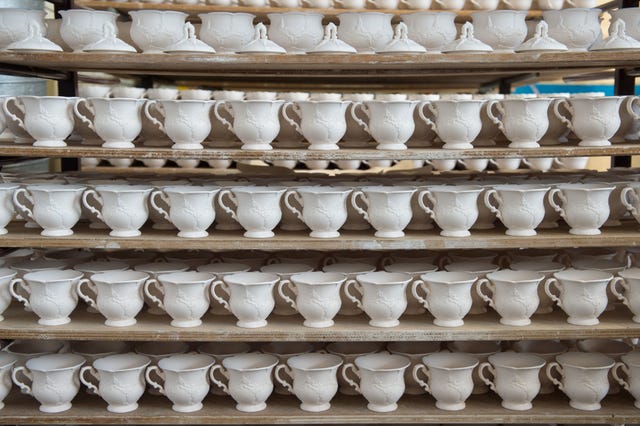 First created in China, true hard-paste porcelain is thought to have been discovered during the Yuan dynasty around the 1280s. This ceramic made from kaolin has been treasured throughout history, especially by the royals of Europe, and many patterns decorating porcelain continue to set the tone of the luxury hand-crafted and -painted dinnerware and beautiful table settings. These designs still inspire us today, infiltrating our party closets and decorating our tables with regality and timeless charm.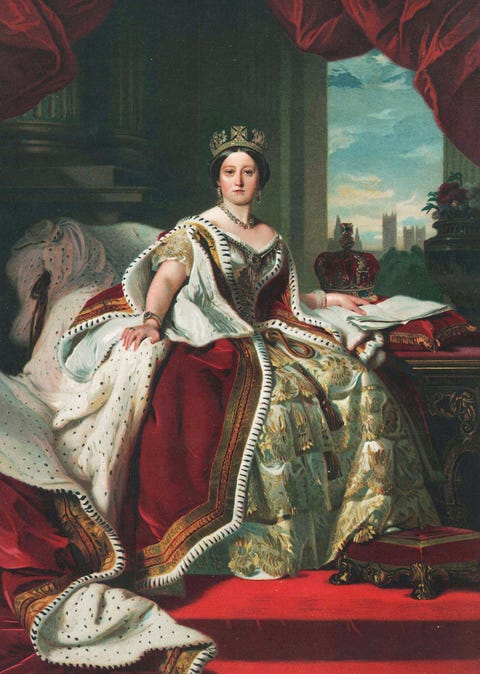 Queen Victoria of England, circa 1850
TRANSCENDENTAL GRAPHICSGETTY IMAGES
Herend, a Hungarian manufacturer established in 1826 as a pottery factory, pivoted in 1839 to producing beautifully hand-painted porcelain and presented a new dinnerware pattern at the first World Exhibition in London in 1851.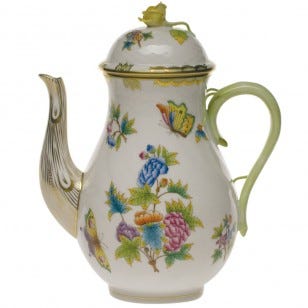 COURTESY OF HEREND
Queen Victoria Coffee Pot
Herendherendusa.com
$600.00
Queen Victoria attended the exhibition and purchased a large set for Windsor Castle on the spot, putting Herend on the map as one of the go-to sources for luxurious dinnerware fit for royals and aristocrats. The pattern, named "Queen Victoria" after its notable benefactor, drew its inspiration from the East and features blooms inspired by Chinese florals.
Empress Elisabeth of Austria was gifted Herend's Siang Rouge tea service by her husband, Emperor-King Francis Joseph I, for her use at Gödöllő, their summer palace, which was cause for renaming the pattern after the royal homestead.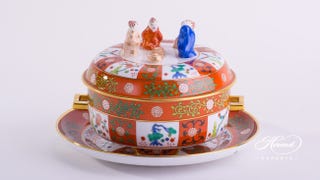 COURTESY OF HEREND EXPERTS
Godollo Tea Caddy
Herendherendexperts.com
€1.00
Continuing Great Britain's royal tradition of supporting the Hungarian manufacture, Princess Diana selected Herend's Rothschild Bird as her wedding china and was also an avid collector of the Blue Garland pattern. The cornflower-inspired pattern dates back to 1890 and is credited to Jeno Farkashazy, the grandson of Herend's founder.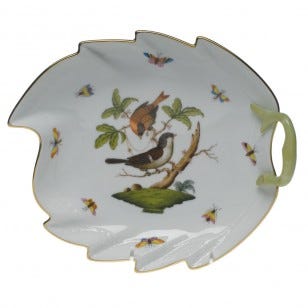 COURTESY OF HEREND
Rothschild Bird Leaf Dish
Herendherendusa.com
$300.00
More recently, Herend, on the eve of the royal wedding of Prince William and Catherine Middleton, presented the couple with the Royal Garden pattern, which was created especially for them as a gift from Hungary and is a modern-day twist on the classic Queen Victoria pattern.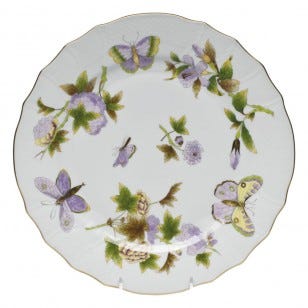 COURTESY OF HEREND
Royal Garden Dinner Plate
Herendherendusa.com
$330.00
Catherine the Great, the Russian empress known for her great patronage of the arts, would commission porcelain, metalwork, and the like in jaw-dropping amounts and amassed an enormous collection of European art from the 18th century. Denmark decided to create the most expensive and beautiful dinnerware with the porcelain manufacture Royal Copenhagen and its master, Johann Christoph Bayer, knowing that Catherine would treasure the pieces. This served as Denmark's way to make amends with Catherine for not supporting the Russians in their war with the Ottomans in 1788.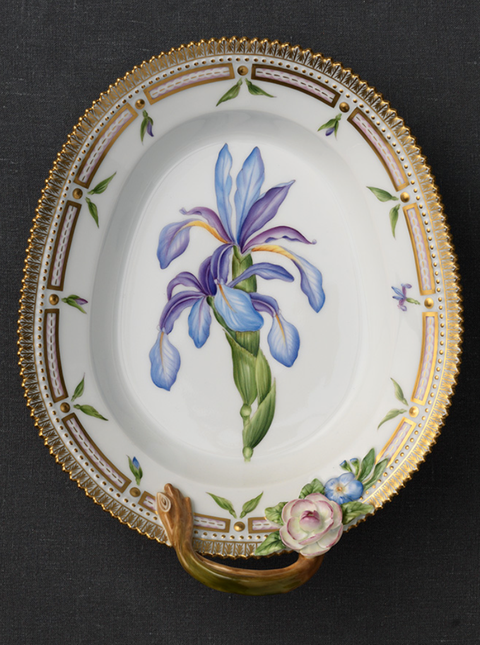 Royal Copenhagen's Flora Danica oval dish
COURTESY OF ROYAL COPENHAGEN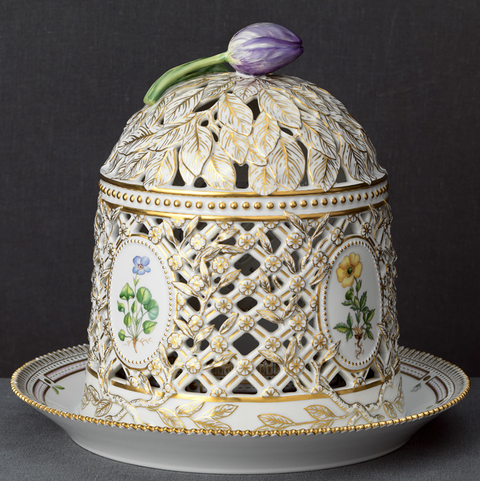 Royal Copenhagen's Flora Danica Ice Bell
COURTESY OF ROYAL COPENHAGEN
The pattern Flora Danica consisted of 1,802 pieces and was made of hard-paste porcelain with edges finished in a lace-like gold finish. The florals hand-painted on the pieces were sourced from the 1761 botanical encyclopedia Flora Danica. This collection took years to create and was intended as a present in 1802 for the 40th anniversary of Catherine's reign, but she passed in 1796. The set was instead given to King Christian VII of Denmark for the Amalienborg Palace in Copenhagen.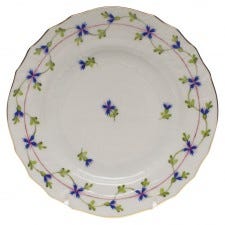 COURTESY OF HEREND
Blue Garland Bread and Butter Plate
Herendherendusa.com
$80.00
Wedgwood was founded in 1759 in Staffordshire, England, by Josiah Wedgwood, who was a true artist when it came to experimenting with clay (jasperware was his most famous creation) and is known as the father of English potters. Queen Charlotte of England was the first royal to take note of Wedgwood when she ordered a set of creamware from Mr. Wedgwood, and eventually he was awarded the title of Potter to Her Majesty.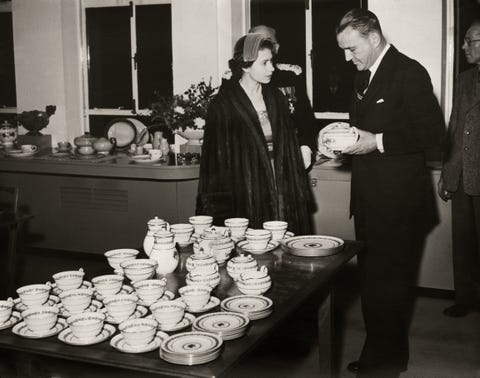 John H. Wedgwood presenting Queen Elizabeth II with a bone china tea service in the Appledore pattern.
REG SPELLERGETTY IMAGES
In France, fine porcelain crafted in the southwest region of Limoges ruled the royal tables. Bernardaud, established in 1863, produced several patterns for French royalty, including King Louis XV's pattern (named for the royal) to be used as the everyday table setting. Marie-Antoinette's service came to Versailles in 1782 and features a Comte d'Artois shape and the cornflower (the wildflower was a favorite of the Queen and one she grew at Petit Trianon). The Gobelet du Roy myrtle-leaf-and-cornflower pattern was ordered by King Louis XVI in 1783 for serving his officers at Versailles.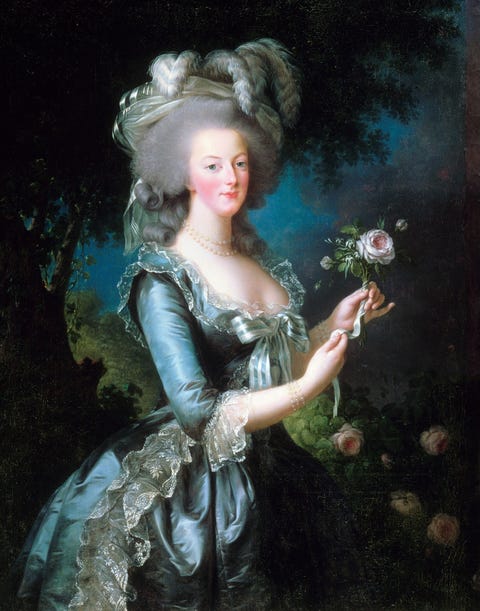 Portrait of Queen Marie-Antoinette
UNIVERSAL HISTORY ARCHIVEGETTY IMAGES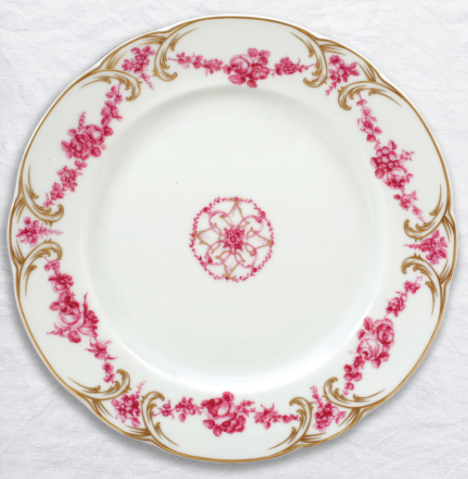 Bernardaud's Louis XV pattern
COURTESY OF BERNARDAUD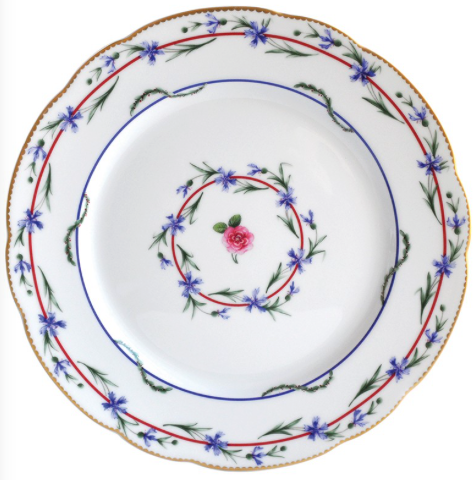 Bernardaud's Le Gobelet du Roy pattern
COURTESY OF BERNARDAUD
Haviland, another iconic Limoges porcelain manufacture, was established in 1853 by American David Haviland, who started with a china shop in New York City and eventually settled in France to oversee the production of his pieces. One pattern, called Imperatrice Eugenie, boasted violets and was created for Empress Eugenie, the last empress of France and the royal responsible for perpetuating the Napoleon III style, named for her husband.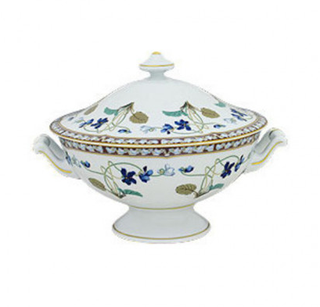 Haviland's Imperatrice Eugenie pattern
COURTESY OF GRACIOUS STYLE
Augustus the Strong, Elector of Saxony and King of Poland, established a royal factory in Meissen near Dresden in 1710.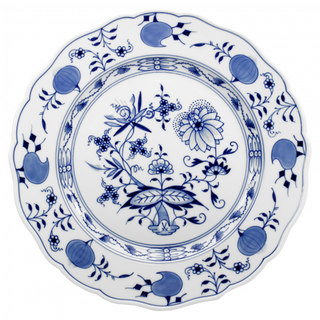 COURTESY OF MEISSEN
Cutout Onion Pattern Plate
Meissenmeissen.com
€199.00
This factory was the leading producer of porcelain in Europe for nearly 40 years, and the process was kept quiet so that Augustus the Strong could sell to other royals. Meissen's "Crossed Swords" marking—two swords taken from the coat of arms of the Electorate of Saxony—adorns every piece of porcelain that the factory produces, and the iconic Onion pattern features the swords in the bamboo stalks of the chinoiserie-inspired design.
This content is created and maintained by a third party, and imported onto this page to help users provide their email addresses. You may be able to find more information about this and similar content at piano.io